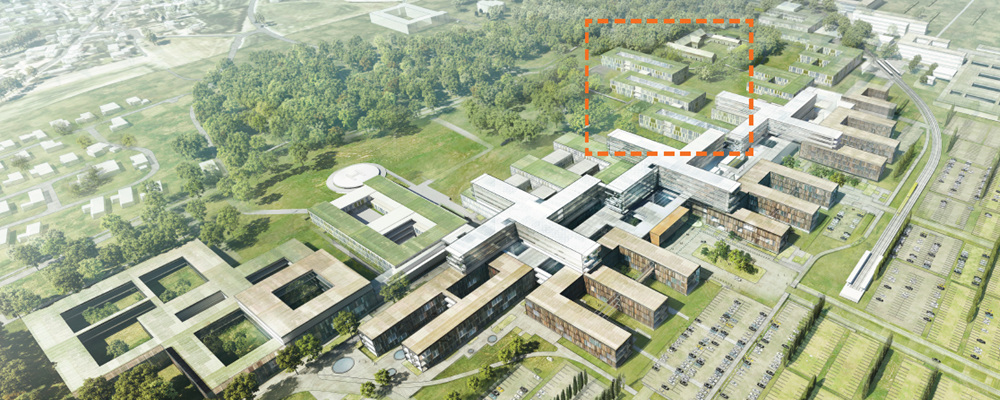 Aalborg University – New Health Science (SUND)
B
riefly about the project
The new Faculty of Health Sciences at Aalborg University is set to accommodate approximately 25,000 square meters of research and study facilities for the faculty's two institutes: Institute of Medicine and Health Technology and Clinical Institute.The new faculty is being constructed in connection with New Aalborg University Hospital, Denmark (NAU).
This is where Exigo has provided assistance
ICT client advisor. Risk analysis of tender material (quantities, collisions, etc.). Risk analysis of work schedules. Setting up 4D/5D management. During the execution phase, collaborate with the client and construction management in ongoing project status updates using 4D/5D.
✓ Risk analysis of schedules
✓ Quantity verification before tendering.
✓ Clash detections
✓ Review of 3D models
✓ Follow-up on ICT specifications
✓ 4D/5D cost management
✓ ICT advisory services
This is what the client says 
In connection with Bygherre's statement about Tactplan Control (formerly called Exicute) to Børsen in 2021:
"We use the tool for economic validation. We can verify the quantity of materials involved, and that means when the contractors submit an invoice, we can see exactly how far they have progressed in the system. If we receive an invoice for 20 million DKK but can see that only work worth 15 million DKK has been done, we must discuss it with the contractor. Overall, it gives the client a better overview of where we stand." Danish Road Directorate/Building Agency, Project Manager, Lasse Rud Pedersen. Read the entire article here..
Learn more about Exigo's services
Collision Control and Constructability Analyses
5D Construction Cost Management
Client:: Vejdirektoratet
Size: 25.500 kvm
The total budget of the project
: 335 mio. DKK