Software Development in Construction
Skræddersyede Løsninger
The time has come in the construction industry to say goodbye to "one size fits all" regarding data.
Tailored integrations between tools already in the respective company are one of the trends we see. 100% transparency of status and progress is another. Transparency extends across all levels, from the construction manager to the chief financial officer.
If you desire a tailored solution for your company, we have several skilled software developers with extensive construction industry knowledge who can assist you.
"It sounds outrageously expensive!" You might think.
But that's not the case anymore. Plenty of cost-effective options exist for a "quick and dirty" solution where our development team can customize a template to fit your needs. For example, an app tailored to a specific workflow or a Business Intelligence dashboard for sorting and displaying data.
You can see an example of an app for progress reporting that we have developed here.
And examples of BI Dashboards here.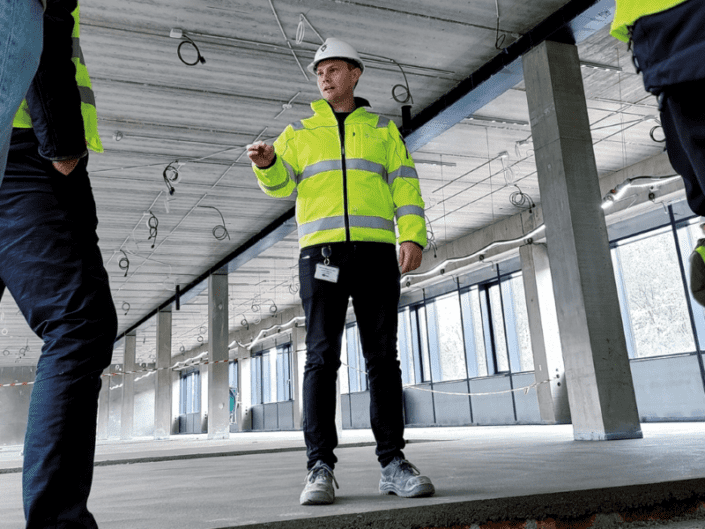 We can help you with the following:
MS Power apps
Custom apps
MS Power BI
Integration between existing software
Requirements specifications
Og husk!
We are primarily specialists in the construction industry. Since most of our employees have backgrounds in construction, we can guarantee you an in-depth knowledge of the industry.
Microsoft Power Apps
With low-code development platforms like Microsoft Power Apps, we can provide rapid and efficient development of apps for specific purposes in your company. Power Apps offers built-in features and excellent integration capabilities with cloud-based services and automated workflows.
Custom apps
If your solution requires a higher level of complexity in terms of functionality, user interface, or integration, it's often relevant to build an app from scratch. This involves setting up the back-end, front-end, and the API (the connector) in the system environment that suits the customer and the solution. We have extensive experience with the tech stack, including SQL, Express, Angular, Node, and various Microsoft Azure services.
Microsoft Power BI
With the Microsoft Power BI Business Intelligence platform, we offer the development of advanced dashboards that can effectively visualize your company's KPIs clearly and flexibly. In Power BI, data from multiple sources, such as spreadsheets and databases, can be combined and processed as needed and visualized in real time. Data can be filtered and sorted live so that you efficiently have the information you need at your fingertips.
Integration between existing software
With data from various systems gathered in one place, you quickly and more effectively gain a good overview. If you need to transfer data from one of our systems to your existing software, we offer external API solutions that can be customized to your needs. We can also assist in finding the best solutions for integrating multiple current systems and developing the most user-friendly workflow.
Requirements specifications
A well-executed requirements specification is critical for both small and complex solutions to ensure a successful resolution. We'd like to offer the development of a requirement specification for your answer in close collaboration with your organization. Before creating the requirement specification, we facilitate a design process that, through several design iterations, uncovers your specific needs and requirements for the solution. We can also manage or assist in the procurement process of the solution and provide ongoing involvement during the development process to ensure that you end up with the solution that meets your needs.
"We have repeatedly benefited from the professional and comprehensive advice from Exigo in both smaller and larger IT tenders in AAB Aarhus.
Exigo has helped us with virtually all elements of the procurement process, from strategic advice in collaboration with our legal advisors, to ensuring a comprehensive and detailed specification in the tender, right down to the practical aspects.
Exigo can offer a wide range of consultants. When we needed advanced calculation models for the award criteria in procurement, they also had the right resources."
Apps og digitale løsninger
Vi hjælper også gerne dig. Der er mange apps og andre digitale løsninger til rådighed i byggeriet, og der dukker løbende nye løsninger op. Der er faktisk så mange, at det kan være vanskeligt at overskue dem alle sammen. Hvilke løsninger giver mening? Og hvilke gør ikke?
Your company may already have a range of digital solutions that work well. However, data may be scattered across various platforms, making maintaining an overview of them all challenging. We can help you integrate the digital solutions you already have in your company.
At an informal meeting, we offer our specialist knowledge and advice for free. We assist you in creating a plan for where you/your company want to go and what you want to achieve. We help you outline the necessary steps to reach your goals.